"The God of the Old Testament is arguably the most unpleasant character in all of fiction. Jealous and proud of it; a petty, unjust unforgiving control-freak; a vindictive, bloodthirsty ethnic-cleanser; a misogynistic homophobic racist, infanticidal, genocidal, filicidal, pestilential…."
-
Richard Dawkins

Evolutionary theorist Richard Dawkins is not an atheist who sits quietly in the pews. Dubbed "Darwin's Rottweiler" he views religion as one of humanity's most pernicious creations. In
'The God Delusion'
, he attacks arguments for the existence of God; accuses religions of fomenting divisiveness, war, and bigotry and castigates believers in intelligent design. This book parallels themes also expressed by Daniel Dennett and Sam Harris in their books
'Breaking the Spell'
and
'The End of Faith'.
In its review of the book Christianity Today stated: "
Dawkins and Daniel Dennett (whose recent Breaking the Spell is his contribution to this genre) are the touchdown twins of current academic atheism. Dawkins has written his book, he says, partly to encourage timorous atheists to come out of the closet. He and Dennett both appear to think it requires considerable courage to attack religion these days; says Dennett, "I risk a fist to the face or worse. Yet I persist." Apparently atheism has its own heroes of the faith"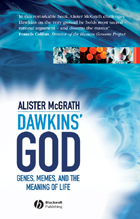 Alister McGrath's book
'Dawkins' God - Genes, Memes, and the Meaning of Life'
is the first book-length response to Dawkins. His book explains and examines Dawkins' scientific ideas and their religious implications. Head-to-head, it takes on some of Dawkins' central assumptions, like the conflict between science and religion, the "selfish gene" theory of evolution, the role of science in explaining the world, and exposes their unsustainability. Moreover, this controversial debate is carried on in a style which can be enjoyed by anyone without a scientific or religious background.
McGrath has called Dawkins
"embarrassingly ignorant of Christian theology
". He has asserted that Dawkins has become better known for his rhetoric than for his argument, and that Dawkins' hostility towards religion lacks empirical support. McGrath suggested in the London Times that
"the ideological fanaticism of Richard Dawkins' attack on belief is unreasonable to both religion and science."
When asked for his opinion of McGrath, Dawkins responded:
"Alister McGrath has now written two books with my name in the title. The poet W B Yeats, when asked to say something about bad poets who made a living by parasitizing him, wrote the splendid line: 'Was there ever dog that praised his fleas?'"
Dawkins and McGrath have debated these topics publicly.
Download the podcasts
.
Richard Dawkins is the Charles Simonyi Provessor of the Public Understanding of Science at Oxford University.
Alister McGrath, born in Belfast, N. Ireland is a world-renowned theologian . Growing up in war-torn Northern Ireland, McGrath witnessed firsthand the bitter conflict between Catholics and Protestants. What he saw turned him against religion. When McGrath enrolled in Oxford University in 1971 he was an atheist, a Marxist and a Darwinist. His view was simple -– get rid of religion and the conflict will go with it. He has a First Class Honours degree in Chemistry from Oxford, and a First Class Honours in Theology. He became a Christian while studying at Oxford and is presently Professor of Historical Theology at Oxford University.
Posted March, 19, 2007