"I am not a theologian, and I have not turned into a religious mystic, but I am a practical problem solver. So I'm looking at religion from the perspective of how knowledge about what people believe in can be useful in terms of trying to resolve the most serious disputes."
- Madeline Albright
Mark Lilla, professor of the humanities at Columbia University, wrote an essay in the NY times entitled
"The Politics of God
" adapted from his book
"The Stillborn God: Religion, Politics and the Modern West
" in which he suggests that religious passions lie at the heart of world politics and we need to bring religion into their solution.
Lilla writes:
Today, we have progressed to the point where our problems again resemble those of the 16th century, as we find ourselves entangled in conflicts over competing revelations, dogmatic purity and divine duty. We in the West are disturbed and confused. Though we have our own fundamentalists, we find it incomprehensible that theological ideas still stir up messianic passions, leaving societies in ruin. We had assumed this was no longer possible, that human beings had learned to separate religious questions from political ones, that fanaticism was dead. We were wrong. A little more than two centuries ago we began to believe that the West was on a one-way track toward modern secular democracy and that other societies, once placed on that track, would inevitably follow. Though this has not happened, we still maintain our implicit faith in a modernizing process and blame delays on extenuating circumstances like poverty or colonialism. This assumption shapes the way we see political theology, especially in its Islamic form — as an atavism requiring psychological or sociological analysis but not serious intellectual engagement. Islamists, even if they are learned professionals, appear to us primarily as frustrated, irrational representatives of frustrated, irrational societies, nothing more. We live, so to speak, on the other shore. When we observe those on the opposite bank, we are puzzled, since we have only a distant memory of what it was like to think as they do. We all face the same questions of political existence, yet their way of answering them has become alien to us. On one shore, political institutions are conceived in terms of divine authority and spiritual redemption; on the other they are not. And that, as Robert Frost might have put it, makes all the difference. Understanding this difference is the most urgent intellectual and political task of the present time.

Madeline Albright makes a similar case both in her book "
The Mighty and the Almighty
" and also in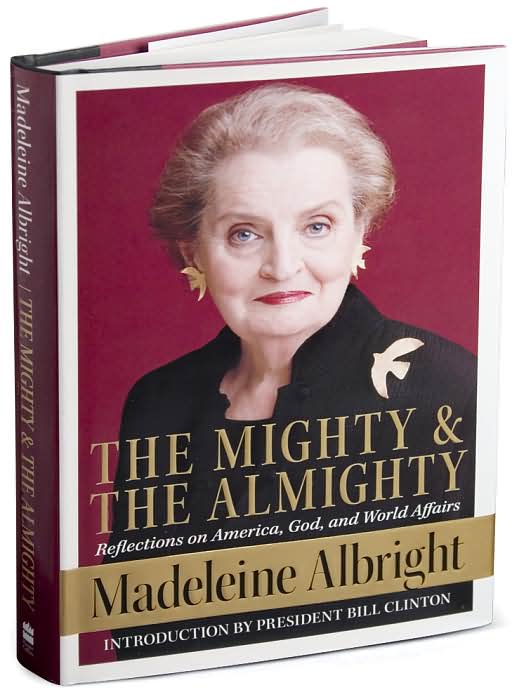 a recent
CNN interview
. Albright says that we have ignored the importance of faith in the cultures of other countries and she argues that politics and religion must be brought into our search for political solutions in many of the World's crisis spots.
CNN: In your book, you argue for a better understanding of religion in the U.S. foreign policy arena. Isn't that a revolutionary idea for this generation of diplomats trained more in the realist school of foreign policy?

Albright: As a practitioner of foreign policy, I certainly come from the generation of people who used to say, "X problem is complicated enough. Let's not bring God and religion into it." But through my being in office, and as I explored the subject much further in writing "The Mighty and the Almighty," I really thought that the opposite is true. In order to effectively conduct foreign policy today, you have to understand the role of God and religion. ... My sense is that we don't fully understand, because one, it's pretty complicated, and two, everyone in the U.S. believes in a separation of church and state, so you think, "Well, if we don't believe in the convergence of church and state, then perhaps we shouldn't worry about the role of religion." I think we do that now at our own peril. Religion is instrumental in shaping ideas and policies. It's an essential part of everyday life in a whole host of countries. And obviously it plays a role in how these countries behave, so we need to know what the religious influence is.

I found the first time I went to Jerusalem, my initial reaction was, people are arguing over all this all the time, it made me think, well, there can't be a God, why would God put up with this? And then I had the total opposite reaction. One that stays with me, which is that there are so many holy places and symbols there, and all anybody talks about is their relationship to those symbols and to God, and therefore the power of God must be so strong there. I just think that it would be much better if people could figure out ... how to agree about it.

CNN: So, therefore, how to figure out the fate Jerusalem is the perfect example of why we need to include religious understanding in our foreign policy.

Albright: Definitely. I am not a theologian, and I have not turned into a religious mystic, but I am a practical problem solver. So I'm looking at religion from the perspective of how knowledge about what people believe in can be useful in terms of trying to resolve the most serious disputes. I think one of the major problems is that here in the United States, particularly, there is very little understanding of Islam. We all act as if Islam is a monolithic religion and that all Muslims live in the Middle East. The bottom line is most Muslims in the world don't live in the Middle East. They live in Indonesia, or Malaysia, or India, um, Pakistan. Second, there are a number of different sects within Islam. Now I think more people understand the difference between Shia and Sunni, but that is just the beginning. We really do not know anything about it
.
Does the U.S.A need more 'religion' in its foreign policy ?

Posted August 21, 2007